Since 2005, BikeCraft? has become a Portland, OR tradition for bike lovers and lovers of bike lovers. Take a stroll down memory lane and visit the ghosts of BikeCrafts past.
2010 | 2009 | 2008 | 2007 | 2006 | 2005
---
BikeCraft
---
The sixth annual BikeCraft was December 4 & 5, 2010.
Open 10am-6pm both days
Venue: Portland Design Works Mothership
15 NE Hancock St. (map)
— Read the latest BikeCraft news.
— BikeCraft 2010 Vendor List (as of 11/22)
— Download and print the BikeCraft flyer! 8.5 x 11 or 4-up (PDF)
BikeCraft, held each year since 2005, is a bike-lover's holiday gift bazaar that showcases local, handmade, bike-themed arts, crafts, fashion, and more.
It's the place to find great gifts for you and yours while supporting local bike artisans. The event is a production of BikePortland.org and is only possible through the help of volunteers and community members like you.
Made possible in part by Pedal Bike Tours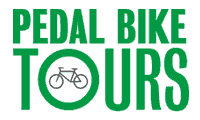 Portland's year-round home for local bike crafts
History